Are you looking to upgrade your jewellery store? A jewellery point of sale – pos system or jewellery pos software allows you to maximize efficiency, grow your profits and better serve customers—learn more here!
Using a jewellery point of sale – POS system or software can bring many benefits to a jewellery business. Here are five benefits of using a jewellery POS system:
Streamlined inventory management: A jewellery POS system can help a jewellery business track inventory levels, monitor stock movement, and manage purchasing and reordering. This can help to prevent stock shortages, reduce overstocking, and ensure that popular items are always in stock.
Improved customer service: A jewellery POS system can help a business to provide better customer service by allowing sales associates to access customer information and purchase histories, process returns and exchanges, and track repairs and custom orders.
Faster and more accurate sales transactions: A jewellery POS system can help to speed up sales transactions by automating pricing, taxes, and discounts, and by providing real-time inventory data. This can help to reduce errors and improve the accuracy of sales records.
Enhanced reporting and analytics: A jewellery POS system can generate reports and analytics on sales performance, inventory levels, and customer behaviour. This can help a business to identify trends, optimize pricing and promotions, and make more informed decisions about purchasing and inventory management.
Integration with other business tools: Many jewellery POS systems can integrate with other business tools, such as accounting software, marketing tools, and e-commerce platforms. This can help to streamline business operations and improve overall efficiency.
Both a jewellery point-of-sale (POS) system and jewellery software can bring many benefits to a jewellery business. A jewellery POS system is a type of software specifically designed to manage sales transactions in a retail jewellery store, while jewellery software is a broader category of software that can include a range of tools for managing various aspects of a jewellery business, such as inventory management, customer management, and e-commerce.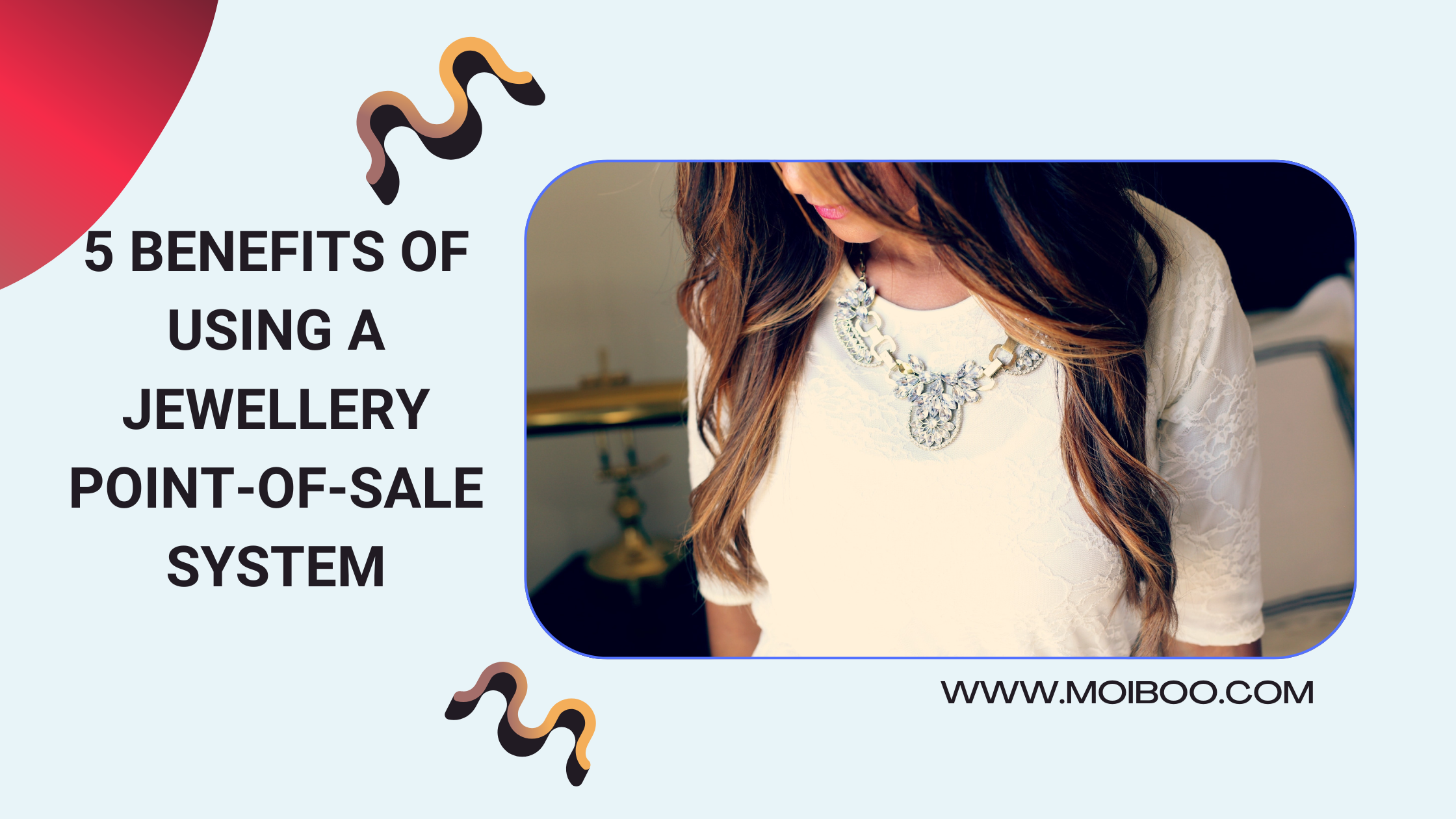 Moiboo's Jewellery Pos software is an all-in-one solution, ideal for independent and chain jewellery stores. It's easy to use and includes features like real-time customer tracking and stock inventory management that allow you to easily manage your business.
Our jewellery erp billing software helps you streamline customer services such as customer retention and loyalty programs, increase workflow efficiency and visibility, easily process transactions including payments, returns, layaway transfers and exchanges, generate invoices quickly at the point of sale or online store checkout, automatically back up data in a secure cloud server.
One of the best ways to increase sales is through effective customer loyalty programs that reward customers for repeat purchases or ongoing patronage of your jewelry business over time. Loyalty programs not only engage your customers but they create the opportunity for additional marketing initiatives. Utilizing materials within your program such as email blasts or direct mailings which can often result in increased word of mouth referrals; these benefits directly translating into additional sales opportunities around special promotions etc. Moiboo has loyalty program features which a jewelery business should try out.
Features of Jewellery POS system:
Easy to setup; Compatible with multiple devices (PC/Mac/iPad)
Customizable interface designed for managing sales faster
Supports payment methods (Cash / Credit Card / Debit card/ Google Pay / Apple Pay / ACH Payments)
Comprehensive analytics & reporting tools
Manage online sales, including managing e-commerce storefronts, tracking online orders, and automating shipping and handling.
Benefits of Jewellery POS – Point of Sale System:
Increase store sales efficiency by offering prompt efficient services with automated POS system
Accurately track inventories in real time when items are sold or returned
Generate detailed reports on customers' needs to enable personalised services & target offers
Secure data backup system prevents any accidental loss of important transaction & customer details
Overall, a Jewellery POS system can help a business to improve inventory management, customer service, sales transactions, reporting, and integration with other tools. These benefits can help to drive business growth and increase profitability. When it comes to operating a successful jewelry business, security is everything! Make sure you choose a POS software that includes secure payment processing options that protect consumer data while also providing fast transaction times and real-time authorization reporting.