Starting a Jewellery business in Singapore requires careful planning, preparation, and research. Just like the population of Singapore, the jewellery market is mixed up. Although customers who prefer mid-range products lead the numbers, regular jewellery stores in Singapore have more business opportunities.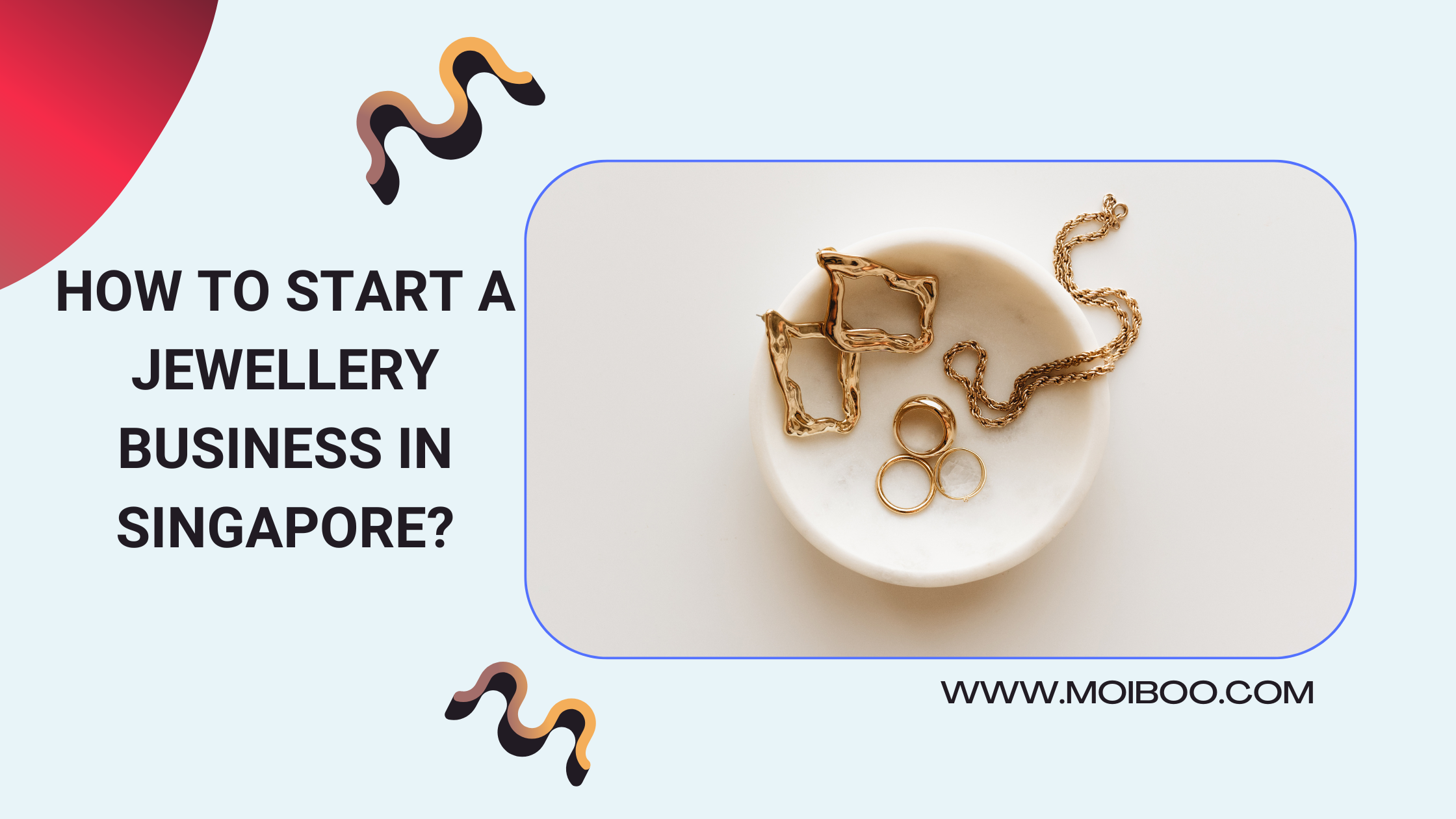 The mid-range buyers will continue to dominate the numbers in the forthcoming years and will increase their contribution to overall sales. This segment will remain strong and consistent as long as customers in this segment are well-informed. 
Table of contents:
Requirements to start your jewellery store in Singapore

Business Incorporation
Getting approval for premises

Apply for a license to run jewellery store
Hiring employees
Import precious metals into Singapore
Minimum share capital
Jewellery fairs for your jewellery business
Participation in jewellery fairs
Singapore jewellers association
Hire a professional services firm
Online marketing for your jewellery business
Conclusion
Requirements to start your jewellery store in Singapore:
Singapore is a great country to start a business as the market is practically massive. Here are the requirements that you must fulfil in order to start a jewellery business in Singapore.
Business Incorporation
Before setting up your business operations, ensure that your retail store is registered with the Singapore Companies Registrar. It is a simple process and consists of only two simple steps. The whole process will be completed in less than 24 hours.
Suppose you are not from Singapore but looking for opportunities to start your business, you must get the required licenses. You should also apply for the Singapore Entrepreneur Visa, also known as Entrepass first.
Getting approval for premises
It is crucial to check if your business premise will be operated in an approved location. You must get proper approval from the Urban Redevelopment Authority of Singapore before starting your operations. Apart from these, you will require a Fire Safety Certificate from the SCDF (Singapore Civil Defence Force). This will ensure that your jewellery store meets the fire safety standards of Singapore. 
Apply for a license to run jewellery store
In order to start your jewellery business in Singapore you must obtain relevant licenses and permits. Although, you must keep in mind that these are separate from a business license. As a business owner, you must learn more about the pawnbroker and import/export license. You must meet the following requirements to obtain a pawnbroker license:
As a business owner you must have an outstanding conduct 
You must have your jewels insured in order to sell them
A guarantee of 100,000 SDG must be provided to the registrar from the bank or insurance
Hiring employees
Employees play a vital role in determining the success of a business and so you must take steps to ensure that you have hired efficient staff. It would be better if you hire employees with a strict filtering process to oversee your operations effectively. 
Import precious metals into Singapore
If you are planning to import metals from overseas, then you must get an import license. Get in touch with an expert consultant to learn more about obtaining an import license. 
Minimum share capital
There is a minimum share capital requirement that every business owner must have in order to start his/her concern. The MSC for opening a jewellery business in Singapore is 2 million SGD. If you have plans to own more than one jewellery shop, the minimum amount will be 1 million SGD for each license. 
Jewellery fairs for your jewellery business
They are exciting events that will provide unlimited opportunities to promote your business. As customers will have unlimited choices under a single roof, you can expect a massive crowd. 
You can make use of these opportunities by implementing your creative strategies. You can enhance the brand reputation easily. There are two main jewellery fairs in Singapore; they are:
Singapore International Jewellery Expo (SJJE)
Singapore Jewellery & Gem Fair
Participation in jewellery fairs
If you still have second thoughts on participating in a jewellery fair, continue reading as breakdown the advantages of it.
It is a great platform to present your unique selling features and capabilities
As it is an exhibition, you will get immense attention from social media and other channels.
You can advertise your products and services for free of cost
Since you are meeting them in person, you can grow your network easily 
Singapore jewellers association
Singapore Jewellers Association is an organisation that completely represents a chain of business owners in Singapore. It is a non-profit organization and has about 230 members that includes retailers, wholesalers, manufacturers, education providers and laboratories. 
Hire a professional services firm
We recommend that you hire a professional services firm in Singapore to help with the major steps. As they will have a proven track record of work, you will get your work done in time. They will put things thoroughly by minimizing the verbal complexity; thereby saving your time. 
Online marketing for your jewellery business
Jewellery is a sector where there are numerous service providers. If you want to stand out from the crowd, you must ensure that customers will hear your voice amid the noisy market. As we are living in the digital era, online marketing is the best way to pull customers. 
Social media platforms help gain exposure for emerging brands in a period of time. You can build your audiences and validate an idea on a large scale. Online marketing strategies are also important for established online businesses.
Conclusion:
Jewellery is a highly saturated market that stands out from every other sector with its design instincts and market value. Ensure that your designs are authentic and stand out from the crowd. Ensure that the user queries are addressed at the earliest as it will provide several crucial insights to improve the business. Starting a jewelry business in Singapore requires careful preparation, market research, and a solid business plan. With the right strategies and resources in place, you can build a successful and thriving jewelry business in Singapore.
If you need any help to setup just message us...