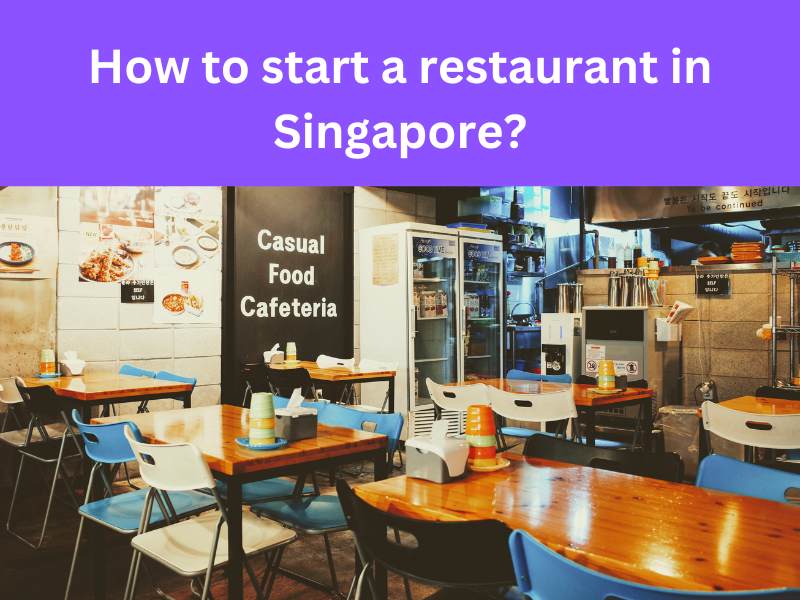 No wonder why Singapore is called the Food Capital of Asia; it boasts a rich and diverse culture, unlike any other country. One could walk down the streets of Singapore and find every cuisine you could possibly taste. Naturally, Singapore becomes a fulfilling location to open a restaurant. 
If you are planning on starting a restaurant in Singapore, this blog is for you. Although the competition is high, business owners with innovative strategies can be successful. We have laid down the process of opening a restaurant as a step-by-step guide.
Table of contents
The step-by-step guide to starting your restaurant in Singapore

Plan your restaurant business
Raising funds for your business
Establishing your company
Why should you focus on the location of your restaurant
Obtain planning permission
Code of Practice Of Environmental Health
Review Fire Certificate of the owner
What are the licenses required to open a restaurant in Singapore
Hiring employees

In a nutshell
The step-by-step guide to starting your restaurant in Singapore
Plan your restaurant business
Planning is crucial for any business irrespective of its niche. The restaurant business has more competition and so it's a survival of the fittest game. Start from scratch, note down the details of your business. Here's what you should concentrate on in the initial stage of planning your business:
Unique selling proposition
Target audience
Cuisine 
Type of market
Investment
By working on the above-mentioned sections, you will be able to steer your business in a positive way. By giving your thoughts a clear direction, you will have a higher rate of returns and minimal risks.
Raising funds for your business
Not everyone with dreams is born with a silver spoon. Food costs, rent, and labor costs are high in Singapore due to its cost of living. Typically, it will cost you somewhere between 50,000 to 600,000 SGD and will depend on the scale of your business. 
Compromising on the location for the cost is the biggest mistake you could do. Instead, you could look for alternative sources of money. Angel investors are always interested in innovative ideas or you could look for other investors. You could also enter a business partnership or approach banks for a loan. 
Singapore's government plays a significant role in boosting its economic growth. They have introduced several incentive-based schemes to support entrepreneurs in the F&B industry.  
Establishing your company:
Although establishing a company to run a restaurant business might seem irrelevant for most people. However, you will find it useful in the long run. If you look at the accounting perspective, the owner and company will be seen as two separate entities. In case your venture turns out to be unsuccessful in the future, you can minimize your own liability.  
Incorporate your restaurant easily as a company by registering on the Accounting And Corporate Regulatory Authority's Bizfile Portal by paying $300. If you are from Singapore, then you must have a Singpass. 
If you are a foreigner or planning on joining hands with a foreign partner, you must get an Entrepass by registering on the Ministry of Manpower. The above-mentioned documents are necessary to incorporate your business. 
Why should you focus on the location of your restaurant:
Identifying the location of your restaurant business is a crucial segment of your business plan. You decide the location based on your USP, target audience, and competition. After compiling the above-mentioned data, your location must check out the following conditions:
The location must be situated close to your target customers
Ensure that your Unique Selling Proposition will work in that location
Look for locations with minimum competition
In terms of the legal aspect, you must sign the documents and will be held responsible for paying rent. Since you need to obtain several regulatory approvals from various boards, hold the location by issuing a Letter of Intent to your landlord. 
By giving a Letter of Intent, your interest to engage in a rental agreement with them at a particular price. You should pay a security amount for it and will lose the money if you decide to breach the terms. 
Obtain planning permission:
Since you will be taking over a premise that wasn't a restaurant earlier, you will need planning permission. Since every premises has its own purpose or restrictions on certain activities, you will require planning permission to make changes.
Code of Practice Of Environmental Health:
You must comply with the code of Practice Of Environmental Health to open a restaurant in Singapore. Go through the Food Retail Outlet in Section 3 carefully. It specifies the rules you need to follow to get a license for your restaurant. 
Ensure that your landlord has no issues with renovating the premises in the future to comply with the code and for various purposes. By making things clear, you can stay away from troubles for eternity.  
Review Fire Certificate of the owner:
Most entrepreneurs skip this step as they find it less useful. Kitchens in restaurants have the highest probability of catching fire and so it would be better if you obtained a fire certificate from the owner. 
The owner of the property must produce a current certificate from the Singapore Civil Defense Force. This certificate will ensure that the property meets every basic fire safety standard issued by the Singaporean government. 
Ensure that the fire safety certificate is renewed every year after the SCDF inspections. Your premise can be persecuted for the failure of renewing the certificate. Typically, it would take up to six months to obtain a Fire Certificate.
What are the licenses required to open a restaurant in Singapore:
Now that you are done with opening a restaurant in Singapore, here's a list of licenses that you require to proceed.
Food shop license
Basic food hygiene course
Liquor license
Important food ingredients
Halal certification
GST registration
Signing the tenancy agreement
Hiring employees:
Hiring employees will be a major challenge irrespective of the business. Make sure to hire only the best talents to run your restaurant business efficiently. You can look for potential candidates in job portals and select the ones who are passionate about their job. 
As an employer, you need to register for the Inland Revenue Authority of Singapore (IRAS) and Central Provident Fund (CPF) to report their income tax purposes and pay their CPF contributions respectively. 
In a nutshell:
Following the above-mentioned guide will help you set up your F&B business most efficiently and conveniently. Operating your business in this highly competitive sector is no easy feat, and so, it requires your fullest dedication.
Once you start your restaurants business, you need restaurant pos software to manage your business operations.