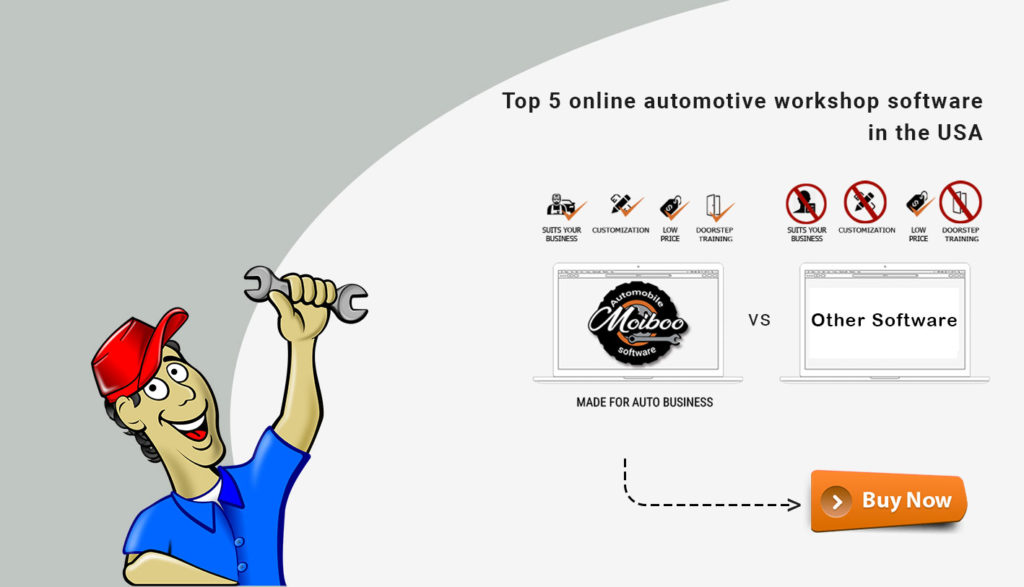 Need for Automotive workshop software
Automotive workshop software is required to improve customer experience, simplify the manual tasks and save a lot of time and money.
Can the automotive workshop software increase revenue?
Automotive workshop software is a one-stop solution for all the workshop needs. All the admin related activities can be automated and streamlined so the workshop owner does not have to spend time on manual tasks, instead, he can divert his time more on repair work and increase the revenue. A satisfied customer helps in bringing more referrals to the workshop and increasing the revenue. The existing customers are also retained.
Benefits of the automotive workshop software
An automotive workshop software helps in reducing unnecessary paperwork by moving towards digitalization. The IT costs are reduced and inventory management is done efficiently.
Features of the automotive workshop software
Job cards
Invoicing
Customer approval
Vehicle management
Mechanic Management
Vehicle status alert
Consumables management
Purchase management
Document management
Mobile App
Accounting
Top 5 Online automotive workshop software in the USA
Workshop software
It is easy to use simple auto repair software that manages jobs, sends invoices, quotes and bookings.
Features
Billing & Invoicing
CRM
Inventory Management
Labor Rates
Maintenance Scheduling
Quotes/Estimates
Service History Tracking
VIN Lookup
Work Order Management
It is a SAAS product and training and support are available online. The price of the software starts from $29 per month
Autotrox
Autotrox is a web-based garage management software that manages job cards, spare parts, Invoicing from anywhere.
Features
Insurance & Billing
Quick Services
Collision Repair
Assign Technicians
Capture Vehicle Pictures
Implementation FREE (Online)
Training FREE (Online)
Web Anywhere
Tally Integration
Inventory
Job Card Management
GST Billing
Daily Report to Workshop Owner
Customer Notifications & Reminders
Support
Update
Mobile Application
Labour pricing catalogue
Mitchell-1
Mitchell 1 is a user-friendly automotive management software that helps in managing the activities of the workshop. It is used by both large and small-sized workshops to maintain their workflow
Features
It is designed for small, medium and large auto workshops.
The software is effective when it comes to cost savings.
The software enables you to boost your team's skills.
It saves both time and valuable money.
The price of the software is $19.95 per month
Work order software
Work order software helps in providing quality management services in the workshop. The main feature of this software is that it provides ample space for saving the documents relating to the vehicles. The documents can be easily retrieved whenever necessary.
Features
It is simple management software.
It is easily downloadable.
It works equally well for large and small auto shops.
It is packed with user-friendly tools.
Pricing
The training and support is done online and the price of the software starts from $34.95 per month
Moiboo software
Moiboo automotive workshop software is a software that is customised specifically for the workshop business. It has all the features that are needed to run the workshop smoothly.
Features
The mechanics are assigned job cards which helps the owner to analyse the work done by the mechanics and also it serves as a checklist that the mechanic has performed all the tasks.
Invoices can be raised from the templates in the software or customised based on the requirement.
Customer approvals can be easily obtained for specific tasks.
Inventory management can be easily done for the spare parts.
Document management can be done easily.
Accounting of receipts and payments can be done easily
Mobile app feature helps to access the business from anywhere.
Conclusion
Automotive workshop software helps in managing the workshops efficiently and professionally, A well-managed workshop helps in attracting more customers to the workshop and also maintain existing customers. Hope the above details for top 5 online automotive workshop software in the USA
For more details, please visit our website: Click here
or call: +65 9895 1817