Venture capital, VC is a type of investment that offers financial momentum to the SME sector and startup companies. Most venture capitalists invest in companies with high growth potential. Most VCs in Singapore invest in technology-related ventures like IT, nanotechnology, biotechnology, and more.
The reason is quite apparent – tech startups and SMEs have higher growth potential compared to other sectors. The model works on achieving higher returns. Therefore, typically venture capital investors look for low-risk investments.
Singapore is one of the fastest-growing nations in south-east Asia. The economy is thriving and robust with a sound infrastructure, grants in cash, incentives, etc., to Singapore's startup companies. What is interesting to note is that the robust Singaporean economy has led to the procreation of many high-net-worth individuals and institutional investors.
The presence of such cash-rich entities clubbed with the establishment of incubators and investors under government-led programs like SPRING and NRF has led to the development of the venture capital sector substantially in Singapore in the last few years.
a)The Economic Development Board in Singapore,
b)The Government Investment Corporation of Singapore, and
c)Temasek Holdings
are three other entities that offer sound support to the capital market in the island country.
Compared to the West, the venture capital sector is relatively new to Singapore. Still, there are 100+ venture capital firms in the country today – some are individual and some are partnership base, and some are institutional investors.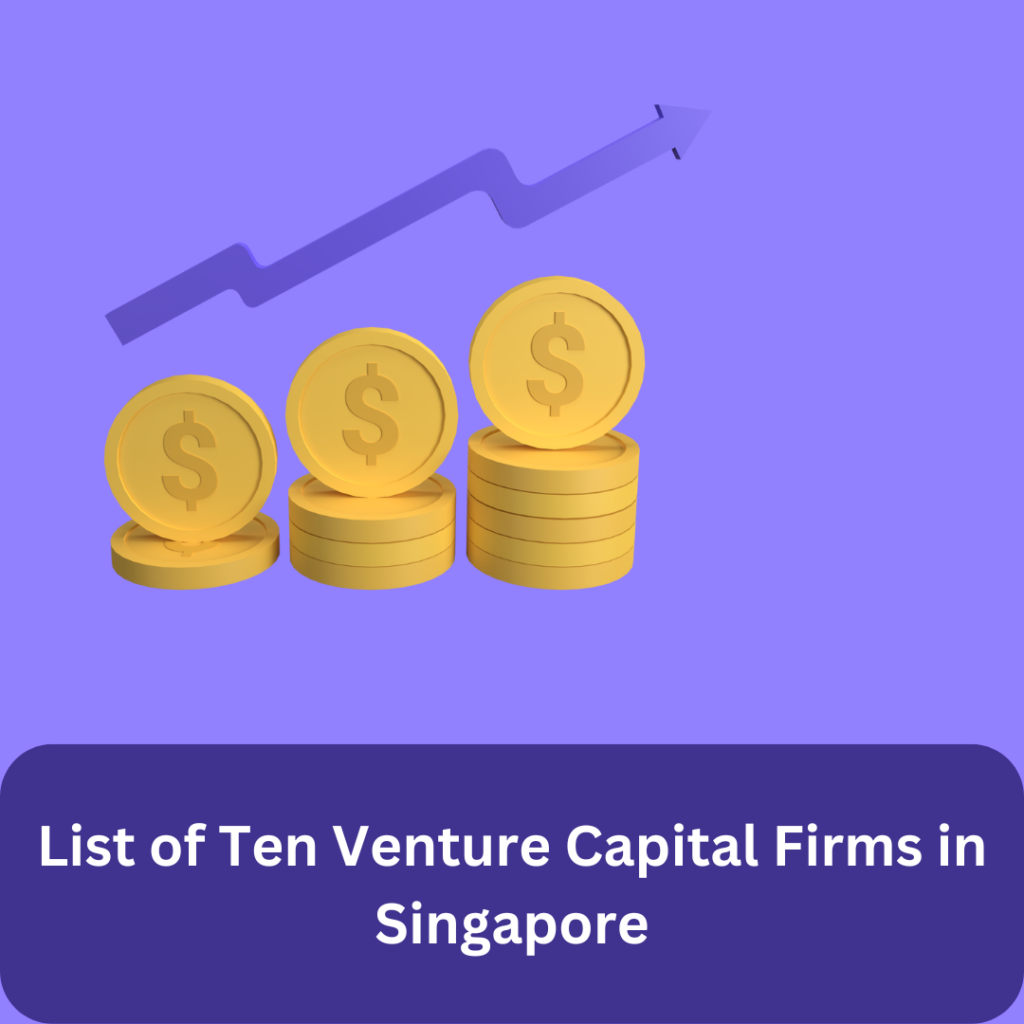 Table of content
Vertex Holdings
B Capital Group
GGV Capital
500 Startups
Singtel Innov8
Quest Ventures
Wavemaker Partners
Life. SREDA
East Ventures
Qualgro VC
List of Ten Venture Capital Firms in Singapore
1. Vertex Holdings
Vertex Holdings has a Fund Under Management (FUM) of $1.5 billion. Singaporean wealth fund company called Temasek owns Vertex Holdings. It is a collection of a network of venture capital funds with California-based Vertex Holdings as the anchor investor in three funds – Vertex Ventures, Vertex Growth, and Vertex Ventures HC.
The venture capital fund has an investment portfolio that focuses majorly on technology startups and early-stage companies. Vertex Holdings also invests in healthcare, looking out for opportunities that involve biotech, innovations in medical devices, and digital health companies.
2. B Capital Group
Eduardo Saverin, Facebook co-founder, and Raj Ganguly formed this venture capital group with Boston Consulting Group as a partner. The venture capital firm invests in B2B entrepreneurial ventures, primarily based in four sectors – health and wellness, financial services and insurance, consumer-based, and industrial and transportation sectors.
The group has been working in South-East Asia for a considerable period now; hence, it has experts on board to harness these four sectors' potential. The company is committed to assisting transformative startups and companies in the B or C stage of expansion.
3. GGV Capital
GGV or Golden Gate Ventures is completely focused on investing in startup companies in south-east Asia. The firm's sectors actively seeking out include mobile and internet startup companies, primarily Series A and seed companies. The modus operandi ties up with a credible local investor in Singapore who has experience in the entrepreneurial sector with a well-developed network of advisors and mentors. The firm has FUM of about $30 million.
4. 500 Startups
500 startups work in 75+ countries, having invested in 2400+ startups to date. It is the most active venture capital firm globally and is known for its interest in diversified tech portfolios. The company is currently associated with more than 5,000 entrepreneurs and works across five continents. This dynamic VC firm's plus point is that the team is multi-lingual, with the senior management having years of investment experience and expertise in the investment ecosystem.
5. Singtel Innov8
The $250 million VC firm works out of Silicon Valley, Singapore, and Tel Aviv. The firm is engaged with technology-based companies meticulously with next-gen devices, working with cutting-edge technologies and digital content services.
The company works closely with R&D firms, government agencies, innovators and developers, and capital providers. The firm follows the model of geography strategy, investment stage, and funding size to associate with the right partner.
6. Quest Ventures
Started in 2011, Quest Ventures is involved in digital and tech companies in their early stages. The company is profusely looking out for ventures in AI, e-commerce and online marketplaces, finance, entertainment, food, logistics, insurance, media, sports, and property for investments based out of China and Singapore. It works in a multi-dimensional environment and is noted for being one of the first VC firms in Asia, to lend its support to social initiatives.
7. Wavemaker Partners
Wavemakers is partnered with Draper Venture Network, working across four continents. The company is actively involved in offering startups to scale up their operations and also get global mileage. Having been a part of the VC industry since 2003, the Los Angeles-based firm has its office in Singapore. Focussed on early-stage support to South California and Southeast Asia companies, the firm has invested in 360+ firms to date.
8. Life. SREDA
Life. SREDA is a fintech-focussed firm and is committed to making fintech companies and ecosystems stronger and sounder. Headquartered in Singapore, the firm has been active for almost a decade now. It is acclaimed to be one of the first fintech-based VC firms in the world. Slava Solodkly heads the firm and is one of the most prominent personalities in the global fintech sector.
9. East Ventures
East Ventures invests seed capital in early-stage companies. It is active in South-East Asia, especially Japan, and Singapore, with offices in Tokyo and Jakarta in SE Asia and San Francisco in the US. Since 2010, the firm has invested in sectors like the internet, SaaS business, e-commerce, games, and mobile sectors with a portfolio of about 150 companies in the US and Asia. The company has a FUM of about $150 million.
10. Qualgro VC
The company is principally involved as an investor with Series A or B companies. It scouts for forward-thinking and futuristic innovators who want to grow by contributing meaningfully to society. The other noteworthy aspect of the venture capital firm is that it invests in research-based startup ventures, and works in SaaS, B2B Data, Fintech, Education, and health sectors. They also invest in commercially-operative companies that want to expand further.
Conclusion:
VCs are playing a significant role in the post-Covid-19 era. Southeast Asia is the hotspot for venture capital investors.
Singapore has been the leading destination for venture capital firms, As the pandemic seems to be on the brink of wrapping up for good, VCs in Singapore are expected to invest heavily in health, e-commerce, finance, and education – four sectors that thrived even during the pandemic.

If you are looking for PSG Grant pre-approved Automation software for your business we recommend you to try our Moiboo automation business software to automate your entire business end-to-end. click here for the free demo or Please feel free to call for more details: +65 9895 1817
Note: The info mentioned above is subject to respective changes from time to time.
Faqs:
What is the venture capital investment return rate?
several investments will have a negative return even though some can provide returns that are several times the initial investment. A new capital investment typically yields a return of 25%, according to the Nations Bureau of Economic Research.
What are the main risks associated with the business venture?
Entrepreneurs must deal with a variety of risks, such as bankruptcy, and the risk of money, economic risks, risks to the environment, the risk to reputation, and economic and political hazards. By creating a workable business plan, entrepreneurs may show funders that they are risk-aware and make sound financial arrangements.
How many businesses do VCs back?
Andreessen continues by saying that, taken collectively, the best VCs invest in about 200 businesses a year. There are 4,000 businesses searching for finance, thus the odds are 5.0%.