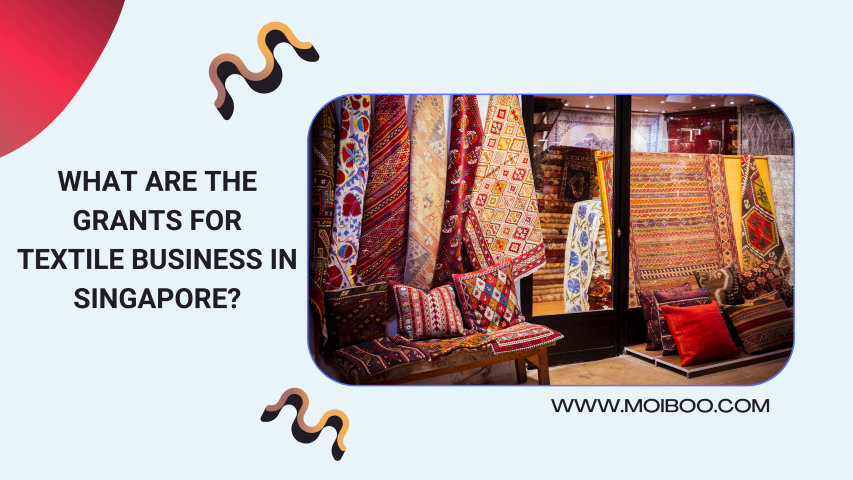 In Singapore, there are various financial assistance programs to provide Grants for Textile Businesses that encourage growth and development in the industry. Singapore is a hub for the textile industry in Southeast Asia, with a well-established network of textile suppliers, manufacturers, and designers. The city-state offers a favourable business environment with a stable political and economic climate, a skilled workforce, and access to regional markets. The government has also implemented several initiatives and grants to support the growth and development of the textile industry in Singapore.
The development in the communication and e-commerce sector has led to growth in the textile business in Singapore. Singapore's majority exports products to Indonesia, the United States, Malaysia, Japan and the United Kingdom.
To start a textile business it is necessary to have the following things in mind:
1. Learn from the people who are already in this business
2. Research the market and understand your customers
3. Connect with vendors for supply of raw materials
4. Managing the finance
5. Location of the business
6. Effective time management
7. Transportation
8. Advertising your business
What is a Grant?
A grant is a fund usually given by a public entity a specialized institution to an individual or another entity for a specific purpose but linked to public benefit. Singapore is one place where many startups wish to invest their time and money as Government has many grants in store for them.
What Grants for Textile Businesses Qualify for?
There are two major Grants for Textile businesses in Singapore:
1. The Productivity Solutions Grant (PSG)
2. Enterprise Financing Scheme (EFS)
What is the Eligibility for the Grants?
Productivity Solutions Grant
The eligibility criteria are as follows;
The company should be registered and operating in Singapore
Purchase/Lease/Subscription of the IT solutions must be used in Singapore
Have a minimum of 30 per cent local shareholdings with an annual turnover of less than $100 million or less than 200 employees.
Enterprise Financing Scheme
Be incorporated or operating in Singapore with 100 per cent shareholding
Business set up of at least 2 years
Annual revenue below $500 million
How to apply for a grant?
For PSG
Get your desired quotation from the respective vendor, and log in to your compass id. Check if you are eligible to apply for the claim. Fill in the application and submit your claim. The IMDA can raise queries which will appear when you log in to your compass id. Once you submit your queries if everything is in order the claim will be processed within 4 to 6 weeks. Moiboo is a pre-approved vendor of PSG Grants which means that your purchase will be funded by up to 50% of your cost.
For EFS
Submit a loan enquiry, Eligible SMEs can upload the required documents to be reviewed for approval. The approval process takes 48 hours, and upon approval, the loan gets funded to accredited and reliable investors.
Moiboo software is an ideal software for the textile business. It is specially tailored to meet the needs of the textile business. It can manage your business end to end. Moiboo software is ideal for baby shops, Toy shops and Boutiques.
The features provided by Moiboo software are :
Whatsapp ordering
SMS Promotions
Cloud Server
Reduce pilferage
Informed purchase
Super-fast billing
Reduce overstocking
E-file GST
Simple Accounting
Print Barcodes
Loyalty cards
Conclusion
Textile Business is a fast-growing business in Singapore. n summary, the textile industry in Singapore is a thriving and competitive sector that offers many opportunities for business growth and success. New start-ups have the advantage of grants from the Government to start a business in Singapore.
The grants for textile businesess given by the government in Singapore can be very useful for companies growth in the country. These grants provide financial assistance and support to help companies improve their capabilities, adopt new technology, and expand their operations. By taking advantage of these grants, textile businesses can increase their competitiveness, become more efficient, and achieve greater success in the industry.
If you wish to know more about these grants please feel free to chat with our consultants by clicking here Click here
Disclaimer: The given grants and eligibility criteria are provided at the discretion of the relevant government authority. You are advised to check the relevance and eligibility on the appropriate Government websites.
https://www.enterprisesg.gov.sg/financial-assistance/grants/for-local-companies/productivity-solutions-grant