Singapore is considered to be one of the best countries to kickstart a business. It receives accolades on a regular basis for its approach towards businesses. It is inevitable that you need to hire good employees to establish your business in Singapore.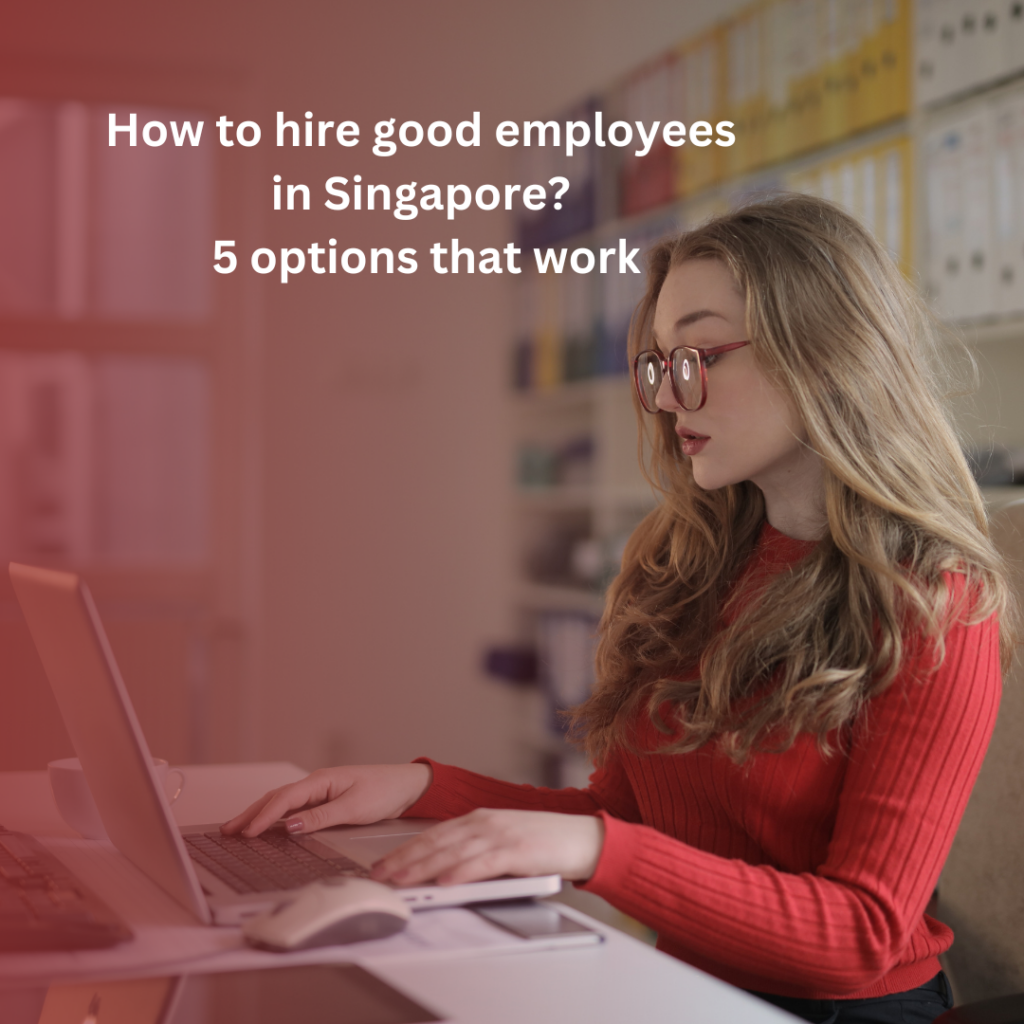 Table of Contents:
Here are the five options that will work to hire good employees

Online job portals
Online communities
Search on LinkedIn
Approach universities
Referrals by current employees
How to get started for onboarding employees in Singapore
What's next for business owners
Overview of the employee act

What is an employee act
Who can benefit from the employment act
Here is what you need to follow as an employer
What are the requirements for foreign employees?

Bottomline
Here are the Five Options That Will Work to Hire Good Employees:
Times have changed; companies have started to adopt new methods to hire good employees. With the help of digital technology, companies are able to hire highly-skilled employees. Here are the five options that will work for you.
Online Job Portals:
Online job portals have become the most popular method to hire good employees in recent times. You will be able to sort through profiles based on their skills, qualifications, experience, etc. 
Online Communities:
Online communities are a great place to find talent since people with the same ideology will be interacting together. If you require special talents, the online community is the right place to look.
Search on LinkedIn:
LinkedIn is the "Facebook" for business connections as you can easily hire good employees. The app helps to connect with people from different parts of the world and can help effectively in hiring employees. 
Approach Universities:
Universities are an excellent source for fresh talents updated with the latest skill set. Reach out to a university if you are looking forward to hiring students or alumni.
Referrals by Current Employees:
Employees will have wide connections and you can make use of it. You can approach your current employees to refer someone with a special skillset in their social or business circle. 
How to Get Started Onboarding Employees in Singapore?
Operating a business in Singapore is relatively easy as the government provided several grants and benefits. Before starting to hire your employees here are a few questions that you need to ask yourself:
What are the labor laws in Singapore and how will they impact my employees?
What is the formality for hiring local/foreign employees in Singapore?
How many foreign employees can I hire for my business?
What are the rules imposed by the Singapore government for levies, and provident fund contributions?
How much should I allocate from my budget for hiring employees?
Are there any recruitment guidelines in Singapore?
What's Next for Business Owners?
Building your business from scratch is key to running it successfully in the long run. Now that you have a sound mind and clear plans, here is what you should consider next:
On what basis will the employees be hired (temporary, full-time, contract, or part-time basis)
What are the visa requirements for employees from overseas
Who will be accountable for the tax compliance of foreign employees?
Learn more about the Employee Act
Overview of the Employee Act:
What is an Employee Act?
It is the key legislation that voices the basic terms and conditions for employment. It is the primary labor law in Singapore and is aimed at improving the lives of employees. 
Since it is entirely related to labor and employment, you need to get into its specifics.
As a business owner, it is important that you have in-depth knowledge about it to fulfill your duties and responsibilities properly.
If your employee is covered by the act, you should abide by the terms mentioned in it while drawing a contract with him/her.
If your employee is not covered by the act, then you can negotiate with him/her to finalize the terms and conditions to be included in the contract.
Who can Benefit from the Employment Act?
Apart from the employees belonging to the following list, the Employment Act is beneficial for everyone. 
People holding managerial & executive positions are said to have direct authority over other employees.
Seamen
Domestic workers
A majority of government staff
Statutory board employee or civil servant
Here is What you Need to Follow as an Employer:
As an employer, you must abide by the following regulations in order to hire employees in Singapore.
You must issue payslips within three working days of payment
Payslips can be issued in formats like a soft copy, hard copy, or handwritten 
Issue Key Employment Terms alongside the contract of service within 14 days of hire
These terms will also include leave policy, medical grants, and other similar terms
Ensure that you keep a record of your employees and their salaries
What are the Requirements for Foreign Employees?
If you are looking forward to hiring foreign employees in your business, you should learn thoroughly about the variety of work passes issued by the Ministry of Manpower.
Bottom Line:
Hiring employees for your business is not an easy task as it is a lengthy process and involves lots of attention. Since the employees will represent your business to your end-users, it is important to hire the right people and motivate employees to work for the business's growth. If you do it right, you can get your business ready to go in the right direction.

If you are looking for PSG Grant pre-approved Automation software for your business we recommend you to buy our Moiboo automation business software to automate your entire business end-to-end. click here for the free demo or Please feel free to call for a free demo and more details: +65 9895 1817
Note: The content mentioned above is subject to respective changes from time to time.
FAQS:
What constitutes a productive hire?
Finding candidates with the best combinations of experience, personality, and talents is essential for successful hiring. It involves gathering and evaluating candidates, conducting interviews, and choosing and enrolling a new hire for work.
How do you make wise hires?
1. Look for an Employee Who Is Committed.
2. Test Each Candidate in a Variety of Ways.
3. Examine compatibility.
4. Continue to refine your hiring procedure.
5. Employ interns.
6. Check out the social media profiles of your candidates.
7. Keep an eye out for the inquiries they made.
8. Pay attention to the strength required for the position.
What are the five steps involved in hiring?
Opening the request, screening applicants, interviewing aspirants choosing the best, and making an offer are the five main stages of the time of hiring that recruiters can help hiring managers with.