Table of Contents:
1. Introduction:
2. Best Movies for Entrepreneurs:
   1. The Wolf of Wall Street
   2. The Big Short
   3. The Social Network
   4. Boiler Room
   5. MoneyBall
   6. Steve Jobs
   7. The Pursuit of Happiness
   8. The Founder
   9. Joy
   10. Office Space
3. Conclusion:
Introduction: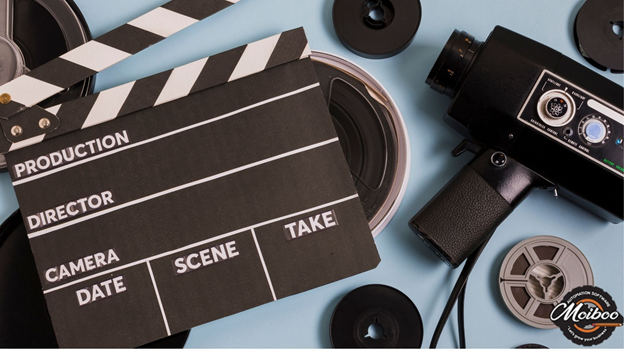 Entrepreneurs need the motivation to travel in the path of business successfully. And one surprising source of motivation would be through movies. Watching the "entrepreneur characters" on the big screen will make you imagine that character and motivates you towards business. Some movies are not just for relaxation, but they will help you to stimulate yourself.
Here are ten movies that entrepreneurs can watch, enjoy and get motivated.
Best Movies for Entrepreneurs:
The Wolf of Wall Street: The storyline of the movie is a real-time incident that happened. The audience liked the movie, and it became a hit on the large screen. If you couldn't see the movie or read the book "The Way of the Wolf," the book for entrepreneurs, then read further to know the takeaways. Jordan Belfort is a stock broker who rose to a very high position in the Wall Street of fame and fortune due to his natural talent for sales. But he did so by compromising on many ethics. He suffered the consequences as well. The movie shows that Jordan Belfort employees are good workers and ready to leave anything (even life) for their boss. Judging a person due to his past experience would be a wrong call. Entrepreneurs must note that (in the movie) social gatherings will happen. And it is really a creative idea for businesses looking out to develop the organization's culture. Finally, fun at the workplace is not a bad thing. It is appreciated to enjoy and relax for some time during the working hours.
The Big Short: This is the movie based on the book "The Big Short: Inside the Doomsday Machine." The movie was nominated for Academy Award for best picture, AACTA International Award for Best Film, Critics' Choice Award for Best Picture, and more. The movie also won awards, including Academy Award for Best Writing, BAFTA award for the best-adapted screenplay, Critics Choice Movie Award for Best Comedy, and more.
What One Must Understand from the Movie:
– Even if someone says that it is good to invest in a particular stock, do some research on your own and then invest the money in it. Blindly believing the words might break the trust upon them if things go wrong.
– If it is easy to climb the success ladder, then everyone in the world will do that. But one must remember success comes only through hardwork and dedication towards work.
The Social Network: The movie teaches lots of lessons to startup entrepreneurs. Hence if you lack time to watch the film, get the lessons from here.
– You need not worry if you are a college dropout. Still, you can be successful in life without education if you are ready to build your skills. To say with some remarkable examples, Bill Gates, Steve Jobs, Ralph Lauren, and Mark Zuckerberg are college dropouts. However, due to their hard work and talent, they have gained a reputation in their respective industry.
– If you think that you have good business ideas, then don't wait for time to make miracles. It would be best if you took responsibility to build your own empire. As per the proverb, "Time and Tide Wait for None," you cannot achieve anything if you keep on waiting for time and opportunities to come and knock on the doors.
Boiler Room: One of the all-time favorite movies for many of us. Ben Younger is the director of this film, and it is nominated for many awards. The movie's 120 minutes is totally power-packed and brings the audience to the corner of the seat. Here are the takeaways waiting for you.
– Do you believe in creating new things? Then entrepreneurs must create a unique learning system whenever they recruit employees. Straightforwardly, if one wants a learning employee, then making a learning atmosphere is necessary. Moreover, the employee must also not be preoccupied with already learnt experience. As technology is evolving, they must be ready to unlearn and accept new things in the industry.
– Work, work, and work. As that is the standard norm for all entrepreneurs. Though relaxation is essential, it must not drive away your passion only in dreams. To make it come true, one must throw the hard work.
MoneyBall: The must-watch movie for entrepreneurs. The film gives new perspectives towards team management. Not everyone will be ready to take up your words. When you like to implement changes, there will be some people around you who would be opposing the changes. But when you are clear in your thoughts, then proceed without hesitation. Secondly, to win the game, it is always not mandatory to select only the top-performing players, but it is on training given to them. The startups must know that choosing the right candidates and firing the under-performing ones is also essential. Watch the movie whenever you find the time, and I would challenge it to motivate you towards entrepreneurship.
Steve Jobs: In real life, entrepreneurs cannot reach success in business without seeing failure. In the Steve Jobs movie, it is explained well, and most of the film showcases the failure of Steve Jobs, founder of Apple. To become a strong entrepreneur, you must learn to face failures and problems in life as there is no shortcut for it. He didn't complete this graduation, and hence he lacks in qualification and skills as well. Later on, he started to learn without leaving self-confidence. The movie explains how this businessman sees success after lots of struggles in his professional and personal life. As per the proverb "Great Ones are Always Not the Good Ones," Steve Jobs proves it to be.
The Pursuit of Happiness: It is always important to listen to others' opinions and self-evaluate them. It is not fair to ignore opinions in business. However, one can neglect the doubts that others have about you. For example, your relative may say that you cannot start and run a company successfully and never waste time. Instead of getting disappointed, ignore the comment. And struggle hard believing in you. Chris Gardner, in this movie, does the same. The film is all about the incredible bond between a father and son. And it also teaches us that life is not so easy all the time. The pursuit of Happiness is a thought-provoking movie that people in business must watch.
The Founder: For people in business, loyalty is the most significant thing to follow. He must be loyal to everyone – customers or employees or shareholders or partners. If the businessmen are not dedicated to anyone on this list, running a business will go in vain. The movie shows how the brothers started a fast-food restaurant and worked to run it successfully. Earlier, there were many flaws in the restaurant business. Many times, food arrived late, and it was not hot. People were also left uncomfortable eating the food sitting inside the vehicle. After research, two brothers (McDonald) planned to start a fast-food restaurant that could overcome all these issues that were happening in regular restaurants.
The brothers researched a lot – in restaurant design, the business plan. They iterated several times before taking a decision. Initially, during the beginning of the McDonald era, people refused to accept the fast-food concept as they were accustomed to ordering the food and receiving it by sitting inside the car. Later what happens is the story.
Joy: The movie is all about the woman entrepreneur named Joy Mangano, who involves gaining knowledge about the business. Most of the time, she was without a job and had a housewife rather than an entrepreneur seeking business success. Raising an organization is not an easy job. Instead, it requires dedication and fighting spirit to survive in the competition. And that is what Joy does in the movie. The woman entrepreneur seeks success in the industry. She tries hard, asks for advice from many other experts in the industry, and runs continuously towards reaching her goal. You will surely get a fantastic experience by watching the movie.
Office Space: The movie hit the large screen in 1999. Yet, the impact of it remains fresh to date. It's been two decades now since the movie's launch, and here are the niche things to learn from it. Micromanaging is hardly possible at work. Because there would be many works on the priority list to handle immediately hence micromanaging becomes tedious. Proper communication plays a vital role in building a business. Taking rest is also equally important for entrepreneurs.
Conclusion:
In day-to-day life, entrepreneurs might have heard others' opinions – arrange for capital, think of a business, plan or do hard work. And many times, comments like "You cannot do, "hat," "You are wasting money," or "get back from this business" will also bother you a lot. The best entrepreneurs' quality is to filter both the positive and negative comments and to believe their self-confidence. These movies will surely help you in one way or another in your business path. Hence if you have time, just try to watch these movies.
For more details about entrepreneurs, Please visit our site: Best start up business advice & Tips for entrepreneurs in Singapore