Using WhatsApp Business, businesses can create a business profile, which includes important information such as their address, business hours, and contact details. Customers can use the app to contact the business, inquire about products or services, or get support.
The app also offers automated messaging features, which can be used to provide quick responses to common queries or to notify customers about new products or services.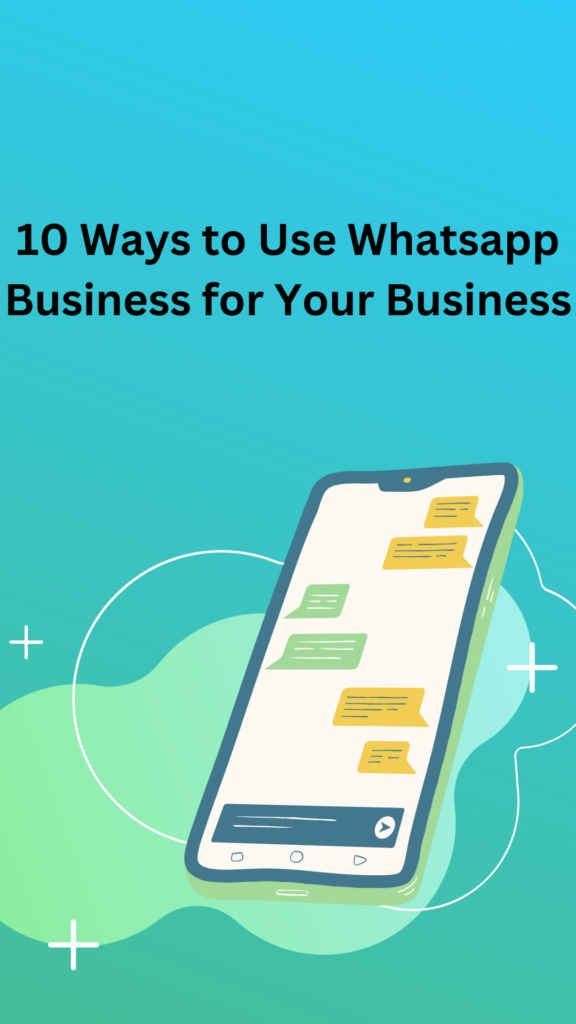 Table Of Contents:
1. Introduction
Whatsapp for Business – Few Things to Know:
2. 10 Better Ways to Promote Your Business Via Whatsapp:
1. Say About Your Trade Via Whatsapp Business Profile:
2. Whatsapp Business App Looks Very Similar to Whatsapp:
3. Utilize the "Business Tool" option effectively:
4. Send the Catalog Link to The Potential Customers:
5. How to Use "Messaging Tool"?
6. Less Time for Grabbing More Business Opportunities:
7. Whatsapp Web Can Also Be Used:
8. Publishing a Story About Your Business:
9. Overmarketing Will Ruin the Business:
10. Use the Platform effectively:
Introduction:
These days, new business is emerging every day. It becomes hard for businesses to promote their brand in the air-tight competition. Moreover, people are also left alone to trust the brand – whether it will be genuine or not. Social media has become the right platform for both businessmen and also for the public. It not only bridges the gap between these two but also builds trust in the business among the audience.
Generally, people believe the product/service only through word of mouth or by visually seeing its presence online. On that note, social media is a boon. Recently, Whatsapp is also added to this list. Nearly half of the world's population is using Whatsapp. And brand promotion for business in Whatsapp brings in customers.
Whatsapp for Business – Few Things to Know:
This application became a platform where people can get together without the fear of a pandemic. Many isolated souls can collaborate with their relatives far away via video calling. Now, there are certain business tips that can redefine the use of Whatsapp for entrepreneurs.
Before getting into it in detail, one must want to know the solid reason for using Whatsapp – for business, of course. Nearly one out of two say they are utilizing the application for communicating with their friends, and some percentage of Whatsapp users are students who utilize the app for sharing study materials. Now, businesses must see carefully – the online shopping rate is increased to 30% through Whatsapp, post-pandemic. The reasons for this are plenty,
– People are used to omnichannel applications like advertising on TV, Twitter, Instagram, Facebook, etc. The public is left with posts, chats, and messages sent by businessmen via these platforms. However, through Whatsapp, people can ask about the products or services offered by entrepreneurs.
This gives the intense effect of shopping for a product. People can also negotiate the price or ask for different options etc. Hence applaud for Whatsapp platform.
–        Entrepreneurs need to handle a variety of stress – cash flow, hiring talents, growing brands, and a lot of other things. How will businesses feel if the tension of marketing is greatly reduced? Yes, Whatsapp makes it possible. After creating a group and adding target customers to that group – marketing is made that simple. You can also ask the customers of the group for referrals.
10 Better Ways to Promote Your Business Via Whatsapp:
Whatsapp has introduced an API that helps businesses. Whatsapp launched to global markets at the start of the year. And now, small businesses and SMEs are effectively utilizing the tool for promoting their brand. But still, many entrepreneurs are confused about using Whatsapp for business. Here, you can read about those strategies.
1. Say About Your Trade Via Whatsapp Business Profile:
Whatsapp introduced a different Whatsapp application for businesses. The application is free to download and hence download it via Google Playstore. You can use a separate mobile number for business. Or if you want to use your personal number (that is already given for your Whatsapp profile) then deactivate that personal account then use it for your business profile. It is advised to keep a different contact number for business – so that the customers can reach you there.
2. Whatsapp Business App Looks Very Similar to Whatsapp:
Except for a few niche things for businesses, all other features of both these Whatsapp applications remain the same. Specifically, "Business Tool" is one significant option that is only available in the new normal Whatsapp business app. Thus, setting the business profile is an effortless task for small entrepreneurs. In the Whatsapp business app, it is possible to type and store the answer message that many customers ask you frequently.
For example, if you are selling a product, often potential customers can ask about the price of it. And so, if you type the answer for it in the Whatsapp business app and store. Later, you can send the same message to the customers asking for it. This saves the business time and helps the entrepreneurs to focus on other significant business activities.
3. Utilize the "Business Tool" option effectively:
The catalog is the first best option under "Business Tool". The business owners can add the products/services pictures, its description, and also the price of it. Secondly, a short link option is available. For new customers, you can share the short link and they can visit your business page.
The short link is uncomplicated as it is auto-generated. Thirdly, the business tool has a messaging facility where you can set templates for your business messages. For example, if you are away then you can set a message saying when will you return. Finally, via "Labels" in business tools, entrepreneurs can categorize the conversations that they made with customers.
4. Send the Catalog Link to The Potential Customers:
As mentioned previously, the Business tool holds the Catalog menu. To get started, you can click on settings that are available in the WhatsApp business app. Under "settings", you will see the business tool. By clicking on it, the first menu "Catalog" appears. Press on the "Create a Catalog" button to add your products to it. The "Add Image" option helps to show pictures of your products.
If you wish to add those then you can proceed to fill the catalog along with pictures too. The Catalog menu has "Link" – that is Catalog Link. You can type in the link there. So that customers can view your business there.
5. How to Use "Messaging Tool"?
The Whatsapp messaging broadcast is an effective marketing tool for business owners. The business message can be sent to the list of recipients.
Group chat is different from broadcasting messages. In a group chat, a business group is created. And every member of the group can view the message. Whereas, in message broadcast, it facilitates sending messages privately.
The members of the message broadcast will be unknown to each other – for privacy purposes. For example, you are launching a new product in the Whatsapp Catalog. And you want your customers to know about it. Thus, utilize the message broadcast and send the details.
6. Less Time for Grabbing More Business Opportunities:
This is undoubtedly a fast-moving era. People prefer videos instead of reading long articles. Thus, businesses can utilize this opportunity to make their business videos and market them through Whatsapp. As with any other social media platform, Whatsapp too – you can make a video for promotion. Sending it to potential customers may increase your business sales.
7. Whatsapp Web Can Also Be Used:
Though Whatsapp is a mobile phone application that can be used on smartphones, it can also be used via the web. Through your mobile Whatsapp account, you can use the Whatsapp web too. It is just the mirror of your mobile account.
As we are used to laptops and desktops – you can handle business in Whatsapp web for convenience. You need not worry about security since the niche uses a unique QR code for each Whatsapp account.
8. Publishing a Story About Your Business:
Adding a business success story or any other story on social media platforms is quite common. Snapchat introduced it and other platforms like Facebook, and Instagram also joined the list. Now, Whatsapp business also allows entrepreneurs to add their stories. Either photos or text or GIFs can be added as stories in the Whatsapp business. But it will be visible to the contacts only for 24 hours of time.
9. Overmarketing Will Ruin the Business:
The ultimate goal of business promotion in Whatsapp is to reach the target customers effortlessly. But if any businesses do over promotion of a brand then people may tend to get out of the group easily. Thus, it is the duty of businesses to be within the limit while handling business promotion.
10. Use the Platform effectively:
It is advisable to use Whatsapp as a part of brand promotion. However equal contribution of marketing must be done in other social media platforms too for achieving better results. People these days check about the products in more than a place. When the reviews are convincing then they go ahead of ordering it. Hence digital marketing promotion will help businesses to climb new heights in business.
Conclusion:
Overall, WhatsApp Business can be a valuable tool for businesses looking to improve their customer communication and support. By providing a convenient and accessible channel for customer engagement, businesses can enhance their brand image and build stronger relationships with their customers.

If you are looking for PSG Grant pre-approved Automation software for your business we recommend you buy our Moiboo automation business software to automate your entire business end-to-end. click here for the free demo or Please feel free to call for a free demo and more details: +65 9895 1817.
FAQS:
How secure is a WhatsApp Business account?
Your message is safely delivered to the recipient selected by the business since you send a message to a WhatsApp business account.
Are WhatsApp Business services free?
With the owner of a small business in mind, WhatsApp Business is an app that can be downloaded for free on Android and iPhone. WhatsApp Business offers capabilities to automate, sort, and swiftly reply to messages, making it simple to communicate with consumers.
Why should businesses utilize WhatsApp?
One of the most popular communication apps in the world, WhatsApp has a vibrant user base of 2.2 billion people worldwide. 5 times greater than emails and SMS, WhatsApp messages experience a 98% open rate and a 45–60% click-through rate. Because of this, you ought to employ WhatsApp for marketing and customer support for your company.